It took me a while to find someone for this years' eminent, mostly because I wasn't really sure what "kind of person" I wanted to do. After looking through the list of eminent people that have been done in the past, I decided that I wanted to choose someone who has impacted the LBGTQ+ community; I feel that there's a lack of representation in that area.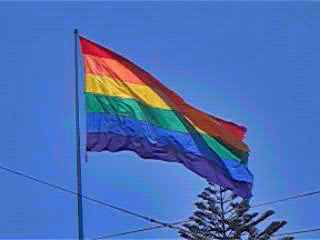 My eminent person this year is *drumroll*… Barbara Gittings! She isn't very well known, but I was genuinely amazed when I found out just how much she has impacted our modern society, specifically LGBTQ+ people. She was a gay rights activist in the mid-1900s, and was very open about her sexuality, which is one of the things I admire most about her. Her mission was to eradicate the negativity associated with homosexuality.
She was inspired to stand up for what she believed in and represent the LGBTQ+ community when she was in the process of coming out. She spent a lot of her time in libraries, trying to find everything she could about homosexuality. She didn't find much, but the information she did uncover was highly irrelevant and untrue. They referred to homosexuality as an illness, and it was then that she developed a craving to change the way members of the LGBTQ+ community are represented/treated both in media and in everyday life.
I'm not going to go into detail when describing her accomplishments — as she's done many things and it would take too long to explain them all — but I will briefly list a few. In the late 1950s she founded "The New York Chapter of the Daughters of Bilitis": the first national lesbian organization. She took part in many gay rights demonstrations, including ones at the White House, and in the 1970s she helped convince the American Psychiatric Association to remove homosexuality from their list of mental illnesses, completely changing their view on the LGBTQ+ community. While all of this was going on, she was constantly working on making (positive and relevant) literature about lesbian women available in libraries. For many years she was the head of the American Library Association's Gay Task Force (GAY TASK FORCE?? Woah). She was in charge of overseeing and editing the list of literature both by and about LGBTQ+ people.
I relate to her in many ways, the most obvious one being we are both members and supporters of the LGBTQ+ community. We have gone through similar things, such as coming out to our friends and family, although my experiences are definitely less "extreme". Although homophobic people still exist, more and more people are accepting of the LGBTQ+ community; she has received way more negative reactions than I have. Adding onto that, LGBTQ+ people are being represented more in the media (books, TV, movies, social media, etc), compared to a few decades ago when you couldn't even find a single book that didn't represent homosexuality in a negative way.
I think that one of the main things that separate Barbara and I is the fact that I am less open about my sexuality, and am scared of being judged by those around me. I hope that by choosing her as my eminent person I will be able to start loving myself for who I am and not letting others' opinions affect me too much.
I am so excited to have the opportunity to make the voice of such an inspirational, eminent figure heard. She has done many incredible things throughout the course of her life, and I know that I will learn a lot from studying her.
ALSO:
Click here for the vlog that I made of the Vancouver Public Libary/Macleod's Bookstore event! I hope you enjoy